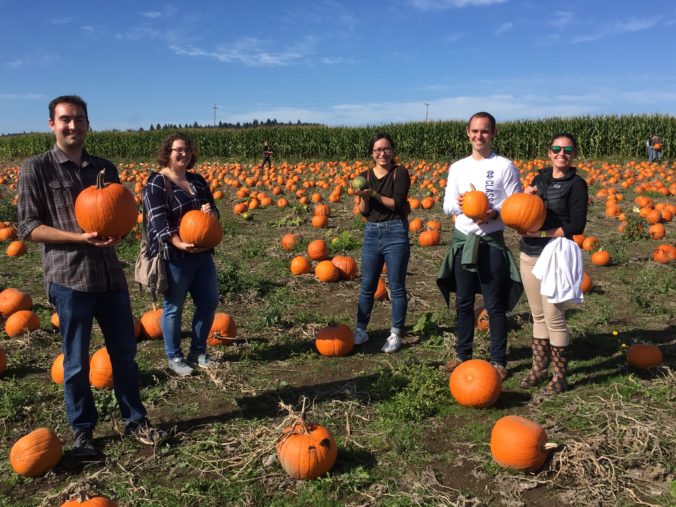 People and projects
Above: a recent fall outing: Eric, Lindsay, Michelle, Bryce, and Jordan
Post Doctoral Researcher
Dr. Cleo Davie-Martin
Cleo is an environmental scientist studying the production and consumption of volatile organic carbon compounds by marine plankton. She runs and maintains the PTR-TOF-MS (proton transfer reaction time of flight mass spectrometer) combining new technology with unique incubation methods to study VOCs that are notoriously difficult to measure because of their low molecular weights and concentrations. Cleo is funded through the NASA-funded NAAMES project.
Graduate Students
Eric Moore
Eric is pursuing an M.S. in Microbiology. He is studying phytoplankton-bacterial interactions using pure cultures and transcriptomic analyses. Along the way, Eric made an important and serendipitous discovery about how to trigger centric diatoms into the sexual lifecycle.  His magic touch extended to the model centric species, Thalassiosira pseudonana, which has long been considered to be asexual. Through this work, Eric has found how exciting AND challenging it can be to make not one, but two landmark discoveries (see https://doi.org/10.1371/journal.pone.0181098)  Eric's graduate program has been supported by a Graduate Teaching Assistantship, funding from the Dept. of Microbiology Tartar Fund, and a Middlekauf Outstanding Graduate Teaching and Service Scholarship.
Bryce Penta

Bryce is pursuing a Ph.D. in Microbiology. He is interested in studying the impacts of mixotrophic metabolism on ecoystem production. Mixotrophs are abundant players in marine environments that can supplement photoautotrophic growth with direct consumption of preformed carbon. Bryce's goal is to use new information about the physiological responses of these understudied protists to constrain ecosystem models.  This is an exciting project that combines lab and field-based studies with computational modeling.
Michelle Pombrol
Michelle joined the lab with interest in applying bioinformatics to understanding plankton dynamics. She is studying the genetic controls of photosynthetic energy allocation in the model diatom, Thalassiosira pseudonana using transcriptomics. This work builds off of the lab's efforts to understand how energy is partitioned into different metabolic pathways depending on growth rate. We anticipate discovering key genes involved in gating energy flow in the marine ecosystem.
Undergraduate Students
Jordan Coehlo (MB)
Jordan is studying the physiology of the first generations of the diatom Thalassiosira pseudonana following sexual reproduction. She and grad student, Eric Moore, received the Sheila Van Zandt scholarship to fund her summer research that follows up on Eric's exciting discovery. Jordan is persistent and creative, two qualities that are serving her very well in this challenging project.
Duncan Ocel (BPP)
Duncan is working to understand photosynthetic processes in the globally abundant cyanobacterium, Synechococcus sp. He is combining traditional measurements of photosynthesis with our new PTR-MS technologies to study volatile organic carbon production by this species and to quantify the amount of photosynthetically fixed carbon that is lost to the atmosphere.
Hugo Sandoval (IB) STEM Leaders program
Hugo is working with grad student Bryce Penta to understand the timescales of acclimation. How quickly do cells respond to mixing events in aquatic systems? As a freshman he learned some of the basics of microbial cultivation culturing, and now in his second year, he is conducting some of his own experiments collecting data on cell pigmentation and carbon content.
Previous Lab Members

Kelsey McBeain (MS, Microbiology, 2016)
Kelsey graduated with an M.S. in Microbiology. She studied the effects of nutrient limitation on the transfer of energy between phytoplankton and microzooplankton ~ the first two trophic levels in the marine ecosystem. She used a unique culturing method to carry out this work and a manuscript describing this research is now in revision. Her work has important implications for food web dynamics, especially in the face of expanding areas of nutrient depletion in the open ocean.  She also received a Dick and Toshi Morita scholarship and she is now working as a lab technician in Alyson Santoro's lab at UCSB.
Brianna Bullington (BS, Microbiology, 2016)
Brianna contributed to two major projects in the Halsey lab. She carefully conducted some diatom growth experiments that garnered her co-authorship on our paper about to be published in PLoS One. Brianna's dedication to aquatic microbiology and environmental health is obvious. She is now working at the Veterinary Diagnostics Lab in the OSU Vet school.
Bethany Moua (BS, BioHealth Science, OSU Honors College, 2016)
Bethany completed her Honors thesis studying physiological acclimation strategies in green algae and diatoms. This work was part of a larger, NASA-funded effort to understand timescales of acclimation to nutrient availability. Her work showed very different responses in the two groups of algae that may have important consequences in carbon and energy trophic transfers.
Nerissa Fisher (MS, 2015)
Nerissa graduated with an M.S. in Microbiology. She conducted a comprehensive evaluation of light limited photosynthetic energy use in the model diatom Thalassiosira pseudonana. A manuscript on this work was published in Photosynthesis Research and can be found here (Mechanisms that increase the growth efficiency of diatoms in low light). Nobody enjoys research cruises as much as Nerissa, and together, we had the opportunity to work in the Atlantic for 21 days on the NASA-supported SABOR cruise measuring primary production and diel carbon allocation. She worked a research technician in the Behrenfeld lab at OSU as part of the NAAMES project before moving on to pursue a Ph.D. with David Suggett down under.
Dr. Bethan Jones (post-doctoral researcher, 2013-2015)

Bethan researched photosynthetic energy use strategies in nutrient limited Thalassiosira pseudonana. Her work has led to new insights on the molecular regulation of carbon assimilation and catabolism in response to nutrient-driven growth rate.  She moved on to work as a post-doctoral researcher in the Behrenfeld lab at OSU where she developed new methods for measuring phytoplankton growth rate in the field. Now she is working on sequencing technologies at OSU's CGRB.
Marius Ibuye (BHS, UHC, 2015)
Marius graduated with a B.S. in BioHealth Sciences from OSU's Honors College. He conducted his Honors thesis research on the effect of dark period duration on the growth of Synechococcus WH8102. He is now in the Pharm. D. program at Oregon State University. Marius' story is one of inspiration and absolute positive conviction.
Rachel Tullsen (MB, 2015)
Rachel graduated with a B.S. in Microbiology from OSU. She was the recipient of a URISC award that funded her undergraduate research on how the carbon composition of Synechococcus WH8102 changes in response to nutrient limitation. This was a challenging project, and Rachel's perseverance was reflected in the success she found in developing specialized methods for growing these finicky open ocean cells in chemostat culture.
Rebecca Wiseman (BHS, STEM Leaders program, 2015-2016)
Jake Dittrich (BRR, UHC, 2013)
Janet Berkstresser (MB, 2013)
Jennifer Flannery (summer, 2012)
Ihadira Lopez (BRR, 2012)